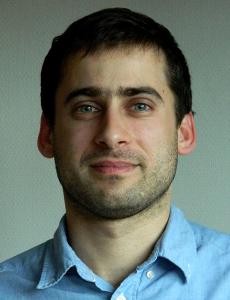 Dr. Péter Vancsó#
AFFILIATION: Institute of Technical Physics and Materials Science, Centre for Energy Research of Hungarian Academy of Sciences, Budapest, Hungary (currently postdoc at University of Namur)
LINK TO WEBPAGE:
http://www.nanotechnology.hu

FIELD OF SCHOLARSHIP: Engineering Science
BIOGRAPHICAL NOTE:
Péter Vancsó graduated in Physics at Eötvös Loránd University, Budapest in 2010. Between 2010-2015 he worked as an Assistant Research Fellow at the Institute of Technical Physics and Materials Science (MFA) in the group of Prof. László P. Biró. He received his Ph. D. in 2015 with a thesis on the electronic properties of graphene. Since 2016, Péter Vancsó has been a postdoctoral researcher at University of Namur, Belgium. In a group led by Prof. Philippe Lambin he is investigating electronic, magnetic and transport properties of different two-dimensional layered materials. He was a recipient of the Young Researcher Award of the Hungarian Academy of Sciences in 2016. Besides his scientific research, he is also active in the popularization of science among high school students.
DETAILS OF RESEARCH:
His main research interest is computational solid-state physics with direct relevance to nanoelectronics. In close collaboration with experimentalists, he is working on novel two-dimensional materials investigating their physical properties and their future potential for electronic applications. During his PhD, he has accomplished achievements in the calculation of transport properties in carbon nanostructures and graphene. Recently, based on detailed calculations, he laid the foundations of a novel nanoelectronic device concept based on graphene nanoribbons which can efficiently control both the charge and the spin signal in a simple three-terminal field effect transistor configuration. Nowadays, he extended his focus also towards novel two-dimensional materials, such MoS2, revealing the major role of native defects in the electronic properties of MoS2 based devices.
THREE KEY PUBLICATION REFERENCES:
P. Vancsó
, I. Hagymási, L. Tapasztó, A magnetic phase-transition transistor with tunable spin polarization.
2D Materials
4, 024008 (2017).
P. Vancsó
, G. Z. Magda, J Pető, J.-Y. Noh, Y.-S. Kim, C. Hwang, L. P. Biró, L. Tapasztó, The intrinsic defect structure of exfoliated MoS2 single layers revealed by Scanning Tunneling Microscopy.
Scientific Reports
6, 29726 (2016).
G. Zs. Magda, X. Jin, I. Hagymási,
P. Vancsó
, Z. Osváth, P. Nemes-Incze, C. Hwang, L. P. Biró, L. Tapasztó, Room temperature magnetic order on zigzag edges of narrow graphene nanoribbons.
Nature
514, 608-611 (2014).