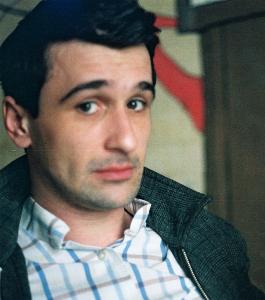 Deodáth Zuh PhD#
AFFILIATION: Hungarian Academy of Sciences, Research Centre for the Humanities, Institute of Philosophy
FIELD OF SCHOLARSHIP: History of Philosophy, Phenomenology, Philosophy of Art
BIOGRAPHICAL NOTE:
I finished my PhD at the Eötvös Loránt University of Budapest and the Babeș-Bolyai University of Cluj with an investigation in Edmund Husserl's philosophy of knowledge and its beginnings in his philosophy of arithmetic and his seminal but still relevant studies on the logic of signs. Currently I work as a research fellow at the Hungarian Academy of Sciences. Due to my training in German language resp. German philosophy and my constantly growing interest in Austro-Hungarian intellectual history, in the last few years I have made progress in encompassing the partly uncharted territories of Hungarian pre-war intelligentsia. Even though my serious interest in the group of intellectuals around the young Georg Lukács and Béla Balázs, the very group that underwent serious research not to mention the decade-long process of collecting their records, there is still enough work to do both in processing primary material and in re-evaluating the results of an established scholarship.
DETAILS OF RESEARCH:
In the meantime I work on a monograph which evaluates the life, work and reception of the 20th century Hungarian-born philosopher of art, Arnold Hauser (1892-1978). The work as a whole will be also a detailed account on last century Hungarian intellectual history. Taking cues from Hauser's still unprocessed personal archives I will try argue for the thesis that the community that gave decisive impulses to the young Hauser, was much more an intellectual incubator than a clear-cut circle of progressive intellectuals. This community let us think of it as the Sunday Circle, but the narrative about its shared general outlook was forged a few decades after it ceased to exist. If anything could have been learnt in this circle was the stunning proximity of concurrent or even contradictory ideas and not a certain mood to contemplate things. Hauser probably learnt here that a thinker's ideas are sociologically bound. But these sociological ties are pertaining to the idea that none of a scholar's theses can perpetuate unless they are widely received and discussed. This applies mutatis mutandis to large portions of the history of art: they not only reflect a certain form of social embeddedness, but also a long history of how they resonate with different meanings and in different communities.
THREE KEY PUBLICATION REFERENCES:
2008 "How Do Categorial Representations Influence Everyday Intuition. On Husserl's Early Attempt To Grasp The Horizontal Structure of Consciousness" In:
Studia Universitatis Babes-Bolyai – Philosophia
. LIII/1–2, pp. 49–62.
2012 "Wogegen wandte sich Husserl 1891? Ein Beitrag zur neueren Rezeption des Verhältnisses von Husserl und Frege", in:
Husserl Studies
28, pp. 95–120.
2015 Arnold Hauser and the Multilayer Theory of Knowledge", in:
Studies in East European Thought
67 (1 - 2): pp. 41-59.