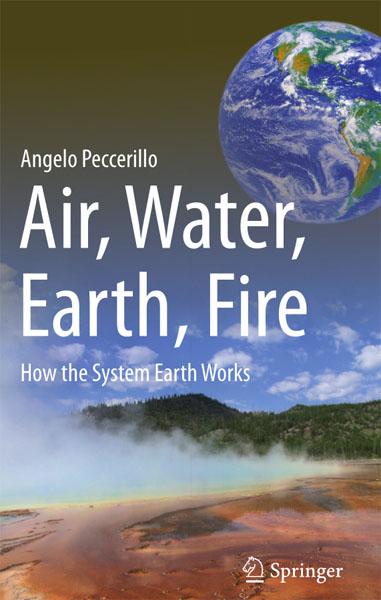 Air, Water, Earth, Fire
How the System Earth Works#
A new publication by Angelo Peccerillo, University of Perugia, Italy, and a member of the Earth and Cosmic Sciences section of Academia Europaea.

The book is a popular text about the basics of Geology, illustrating some of the main geological processes that have shaped our planet, making it friendly for complex life. It aims at giving some basic scientific information on how our planet works, placing the various geological processes in a holistic context.

It consists of nine chapters and an Epilogue. The first three chapters provide the foundation by presenting the structure of the Earth, and the sedimentary and magmatic processes that operate at the surface and inside our planet. Chapters 4 and 5 focus on the physics of the Earth system, in particular on geomagnetism and seismicity. Chapters 6 to 8 synthesise the information from the previous chapters to present the Plate Tectonics theory and the global Geochemical Cycles, exploring their impact on the external environment and life and illustrating how some crucial environmental matters that are amply debated in the media (e.g. pollution, greenhouse effect) can be fully understood by placing them in the holistic context of the system Earth as a whole. Chapter 9 reviews the history of Earth from its formation in the solar nebula to the present time. The Epilogue contains a few informal philosophical-scientific considerations about the unique nature of our planet and discusses how knowledge and thinking of the geological past can lead us to make sound choices in the future. A geological time scale aimed at guiding the reader through the Earth's deep time is reported at the end of the book.

The various chapters are organised to be read in isolation and not necessarily in sequence, although the complete reading of the book, from beginning to end, provides a more comprehensive view of how our planet works. A summary is attached at the end of each chapter: their preliminary reading may help get an overview of the book, a first step in reading individual chapters. Detailed information boxes are added at the end of all chapters to go somewhat deeper into some key issues. Although the presentation is general in nature, various references to specialist publications are reported as footnotes to guide those who wish to investigate particular concepts in detail. Suggestions for further reading are reported at the end of the book.

Potential readership is wide and includes undergraduate and advanced undergraduate students in Geology and other scientific disciplines, and any people interested in the surrounding world and eager to gain a basic, general and comprehensive knowledge of the Earth, of its origin, evolution, and the way it is working.


Publisher:
Springer

Print ISBN:
9783030780128, 3030780120
eText ISBN:
9783030780135, 3030780139
Year of publication:
2021